Heaven's Gate: The UFO Cult & The 1997 Mass Suicide That Shocked The Planet
How Marshall Applewhite and his followers killed themselves, believing they'd ascend to a spaceship inside a comet.
RANCHO SANTA FE, CA — On March 26, 1997, an anonymous tip prompted police to enter a sprawling, Mediterranean-style group residence in a suburb of San Diego. Members of Heaven's Gate, a cult steeped in UFO beliefs, had occupied the mansion, and it functioned as the sect's headquarters — right up until everyone inside was dead.
It would later come to light that Heaven's Gate preached that physical death as a human being could and would act as a portal to a higher existence in outer space. Apparently, the 39 members of the sect who lay lifeless under purple shrouds that day had attempted that very ascension.
Each disciple was clad in Nike sneakers and a black uniform with a patch that read, "Heaven's Gate Away Team." The members reportedly all committed suicide in shifts beginning days earlier.
Video diaries revealed that the suicides had been timed to match the Hale Bopp Comet reaching proximity to Earth. Reportedly, the cultists believed that by shedding their bodily forms, they would awake on a spacecraft hidden inside the comet itself.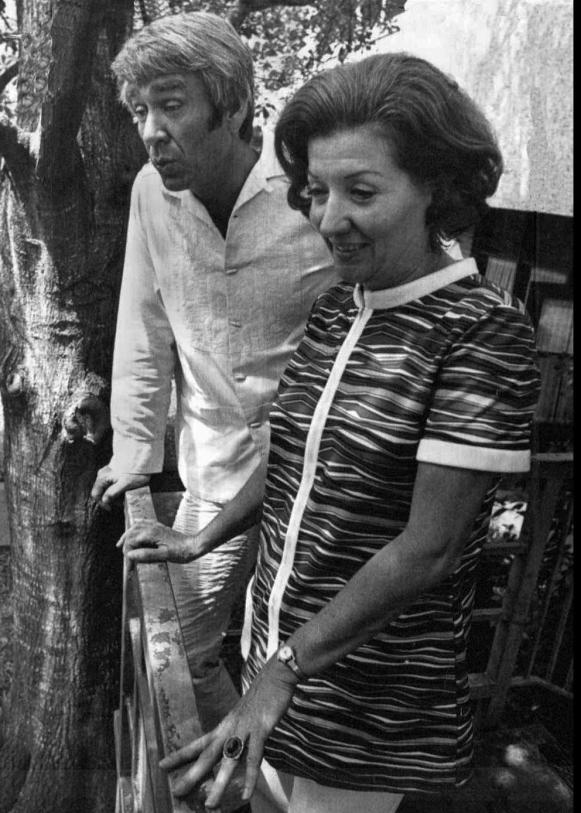 MASS SUICIDE FOUNDER
Marshall Herff Applewhite, left, the cult leader who committed suicide with 38 others in a Rancho Santa Fe, Calif., mansion, is shown in Houston, Tex., in 1972 with his companion and fellow preacher Bonnie Lu Trusdale Nettles. The Texas-born Applewhite lived in Houston from the late 1950s to early 1970s. (AP Photo/San Francisco Examiner and Houston Post)
Marshall Applewhite & Bettie Lou Nettles in 1972 [APIMages/Lucky 8]
Among the bodies was that of 65-year-old Heaven's Gate leader Marshall Applewhite. In 1975, the Texas-born Applewhite, who was the son of a Presbyterian minister, had cofounded a religious UFO society along with his life partner and fellow extraterrestrial enthusiast, Bettie Lou Nettles.
Respectively, Applewhite and Nettles referred to themselves as "Do" and "Ti" (pronounced "doe" and "tee," as in the musical notes). Together they were known as "The Two."
Over the next decade, their organization expanded as The Two traveled the United States, acquiring followers willing to abandon all their possessions, sever all ties to anyone from their previous lives (including their children), and follow them on a path that, they claimed, would lead to a literal UFO landing and whisking the faithful away into space.
On the ID special People Magazine Investigates: Cults, Heaven's Gate, survivor Frank Lyford recounts The Two leading about 30 happy devotees to a secret campground in Colorado where the organization that would come to be known as Heaven's Gate initially began to take shape.
Once in Colorado, Lyford said The Two revealed "The 17 Steps" that they decreed were necessary for their followers to complete in order to be UFO-ready. The essential notion of the 17 steps, according to Lyford and another survivor simply called "Sawyer," was to "overcome" all human conditions, with sexuality topping the list.
Members were also allegedly put on controlled diets, ordered to have close-cropped androgynous haircuts, and assigned cyclical sleep shifts, during which they'd sleep for two hours and then have to stay awake for two hours, repeatedly.
Despite predicted UFO arrival dates coming and going, the followers remained dedicated to the cause, apparently still believing that by purifying themselves, they'd live forever and get to physically board an alien spacecraft.
The group's core beliefs got shaken up in 1985, however, when Nettles died following a secret battle with cancer that had spread to her liver. The news came as a shock, and it seemed to go directly against what The Two had been preaching.
As a result, Applewhite reportedly adjusted his dogma to fit the situation, declaring that Nettles hadn't actually died — instead, she just figured out a way to leave behind her "broken-down vehicle" of a body and ascend to a spaceship of salvation.
The group accepted his sudden revelation and continued recruiting new members. Still, some older participants said they recognized that Applewhite had been shattered by Nettles' passing and that it changed his behavior in potentially dangerous directions.

On the ID special, Sawyer reveals that, while cleaning Applewhite's room one day, he came across a book from The Hemlock Society, a suicide advocacy group, that he said, "Showed all the ways how to kill yourself."
Regardless, the group not only carried on, it advanced into the internet age in 1996 by launching a web site that officially named the organization "Heaven's Gate."
People Senior Editor Chris Harris notes in the show, "Heaven's Gate is considered the first cyber-sect, which means that they were the first cult to actually use the internet to spread their message and to recruit people. Not only did the members make their own website, they were IT professionals who made websites for other people, and they made a lot of money doing that."
Even with a strong foothold in the modern age, Applewhite reportedly doubled down on the necessity of the cult to "free" itself from human sexuality — going so far to advocate, and enact, a policy of castration for male members. Applewhite led by example, and eight of his disciples allegedly followed suit.
As the Hale Bopp Comet approached Earth in 1997, scientists pointed out an unknown object flying in its wake. Applewhite reportedly believed that this mystery chunk was his ride. He told the members of Heaven's Gate to prepare for March 19, when Hale Bopp would be directly overhead.
In a final message video, the cultists are seen smiling, dressed in uniforms and ready for departure. Over the footage Applewhite intones, "We're going to go the kingdom of Heaven, and we're prepared. I want you to see the class that's sitting in front of me. They're about to leave and they're excited about leaving…. The patch says, 'Heaven's Gate Away Team,' and that's exactly what that means to us. We've been away and now we're going back."
In the aftermath, investigators said the Heaven's Gate members killed themselves in four shifts, shutting down their systems by overdosing on phenobarbital mixed into applesauce or pudding, and then washing it down with vodka.
From there, the cultists reportedly donned painter's masks to catch any vomit, and secured plastic bags around their heads to guarantee asphyxiation.
Afterward, a still living member cleaned up each body and placed a purple shroud over it. Only one corpse was found without a shroud — that of a professional nurse who is presumed to have been the last to die.
The death toll was 21 men and 18 women between the ages of 26 and 72. Each had reportedly left "exit interview" videos to be watched after their demise.
In Marshall Applewhite's last video, he infamously says, "We do, in all honesty, hate this world." That phrase has stuck close to the subject of the Heaven's Gate cult ever since.