12 Years Later: What Really Happened To Madeleine McCann?
The Investigation Discovery special will explore the theories that developed after the little girl disappeared — seemingly into thin air.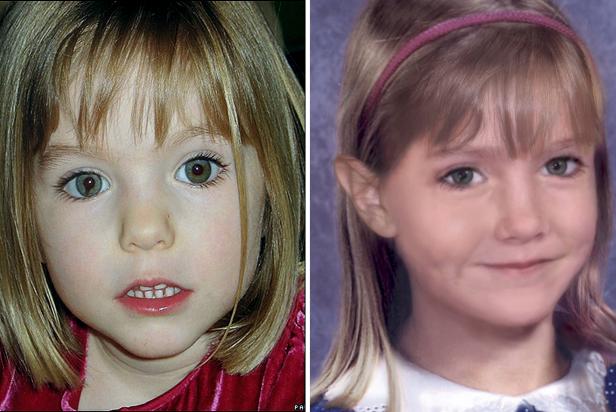 Vermisste Madeleine McCann moeglicherweise am Leben
The combo shows an undated handout photo of missing four-year-old Madeleine McCann (left), who disappeared from her parents' apartment on May 3, 2007 in Praia da Luz in the Portuguese Algarve and was probably abducted in 2009 Image created by US phantom artists that shows what Madeleine could look like at the age of six. Foto: findmadeleine.com/dapd
Madeleine McCann, age 4; age-progressed image, age 6 [FindMadeleine.com/dapd/APImages]
On May 3, 2007, a family vacation turned into a nightmare for Kate and Gerry McCann when their three-year-old daughter, Madeleine, vanished from their Portugal beach villa, just a few yards from where they were eating dinner at a nearby restaurant.

The little girl has never been seen again — and over the years, countless theories have been tossed around regarding what might have happened to her. The story made international headlines, and sparked a massive manhunt by law enforcement.

Convinced she was kidnapped from her bed, the McCanns desperately pleaded for Madeleine's safe return. But the family soon clashed with Portugese police, and after returning to their native Britain, Kate and Gerry found themselves living under a cloud of suspicion.

Now 12 years later, Madeleine's mysterious disappearance is the subject of a new Investigation Discovery special event: Madeleine McCann: An ID Murder Mystery. The movie will explore the theories that developed after the little girl disappeared — seemingly into thin air.

The show will follow the timeline leading up to Madeleine's disappearance and the subsequent actions taken by law enforcement and loved ones alike to find her. It also features all-new and exclusive interviews with key players in the investigation including members of law enforcement, the McCann's legal team, and the criminal experts and journalists who have followed the case from the beginning.

Madeleine's body has never been found, and her parents have remained hopeful that their daughter may still be alive, and that someone, somewhere, has information that could help lead them to her. "There is still hope that we can find Madeleine," they told the BBC.

Watch the premiere of Madeleine McCann: An ID Murder Mystery Sunday, April 7 at 9/8c, on Investigation Discovery!