Before Jonestown: How A Poor Midwestern Preacher Became A Cult Leader
AP Photo/Indianapolis Star
The Rev. Jim Jones poses with two monkeys he imported and sold door-to-door in Indianapolis as a fund raising project prior to founding the People's Temple in Indianapolis in 1955. 1954 photo
The images are forever etched into the public's memory: aerial photos of a seemingly endless field of dead bodies, the bright colors of their clothing contrasting with the lush greenery of the jungle floor. The shocking scene Americans saw on TV and in newspapers was the mass suicide of members of the Peoples Temple on November 19, 1978. A staggering 918 people poisoned themselves on orders from their undisputed leader — Jim Jones.
The world was horrified and puzzled at what took place at Jonestown, a remote village created by Jones and his followers in the country of Guyana. Why would hundreds of Americans uproot themselves from their lives and families to follow an eccentric preacher to South America? Why did they obey Jones' every command? And the biggest question of all in the aftermath of the tragedy: Who was Jim Jones?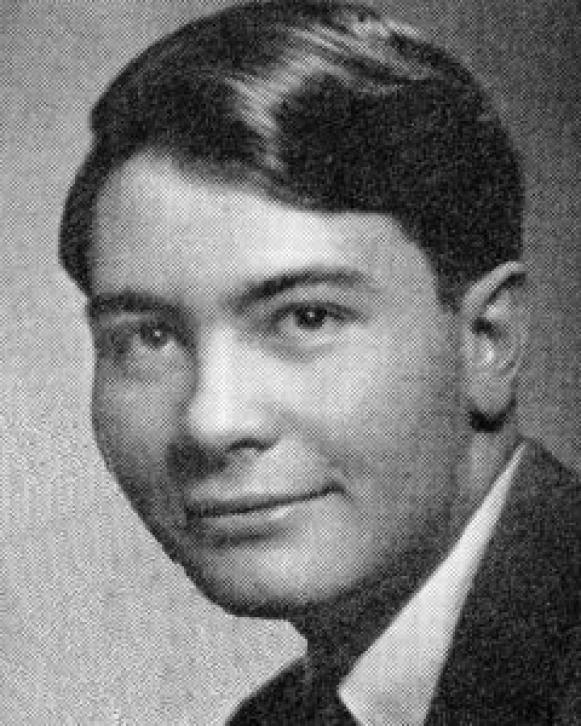 1949 YEARBOOK PHOTO
The Rev. Jim Jones, was taken from the Pierian, the Richmond Indiana High School yearbook of 1949. The book lists Jones, later to become the leader of "The Peoples Temple" religious cult, as an academic student and says, "Jim's six-syllable medical vocabulary astounds us all." (AP Photo)
AP Photo
The Rev. Jim Jones, was taken from the Pierian, the Richmond Indiana High School yearbook of 1949. The book lists Jones, later to become the leader of "The Peoples Temple" religious cult, as an academic student and says, "Jim's six-syllable medical vocabulary astounds us all." (AP Photo)
The life story of Jones is a classic American rags to riches tale that went terribly wrong and ultimately took a deadly turn. Somewhere along the way, Jim Jones transformed from a civil rights advocate and head of his own church into a paranoid, controlling cult leader with a death wish for him and his flock. As we all know, the power of Jones' personality led to disaster for many, but it did not always seem like that would be the case for him and his followers.
Jones was born in rural Indiana in 1931, and his family, like many others, suffered terribly during the Great Depression. He grew up in the town of Lynn, near the Ohio border in the central part of the state. Jones' father was a World War I veteran who had been gassed during the war and was an invalid. The Jones clan had 12 children, and they grew up dirt poor.
The Ku Klux Klan had a powerful presence in Lynn during Jones' childhood, and it left an impression on him for the rest of his life. His early encounters with racism in and around his small town in rural Indiana made Black equality a cause that Jones would champion for the rest of his life.
Another factor that shaped the young man was religion. The small town of Lynn had five churches, and Jones attended all of them at one point or another, soaking up the teachings of different denominations before becoming disillusioned with each one. It was clear from an early age that Jim Jones was going to carve his own path in the world of religion.
Acquaintances from his childhood remember Jim Jones as a quiet, intense young man who wanted to pursue a career in medicine. He was reportedly seen as a bit of an outcast. But at the age of 18, Jones married Marceline Baldwin. He also took classes at Indiana University and started to develop his preaching skills. It was at college that he developed an affinity for communist rhetoric and became a self-proclaimed Marxist.
In the summer of 1952, Jones took a job as a student pastor for a Methodist church in Indianapolis. It was here that the "Rev. Mr. Jones" started to attract a following. The fiery young preacher pushed for his church to allow Black parishioners to attend services, but he received strong opposition. Leaders at the Methodist church where Jones acted as a student minister believed the young, outspoken man was, "too free a spirit to be constrained by the close supervision and discipline of the district superintendent."
Jones took the step of branching out on his own. With a small congregation made up of Black and white followers, he founded his first Peoples Temple in Indianapolis in 1955. Jones, his wife Marceline, and their followers dedicated their time and energy to helping out poor people in Indianapolis, operating soup kitchens, establishing food drives, and preaching racial equality and integration. Jones' progressive message resonated with many of the downtrodden residents of their new city, and his congregation grew.
In 1957, Jones and some of his followers took a bus trip to Philadelphia to visit a famous Black preacher named Father Divine. The charismatic church leader immediately impressed Jones. Father Divine preached a message of racial equality and communal living — but he also proclaimed that he was God. Father Divine had complete control over his followers, and Jones decided to model himself after the cult leader–like figure.
One Peoples Temple member said that after Jim Jones visited Father Divine, he:
"was a changed man. I saw it right away … I sensed the change. After that, it was 'my way or no way.' It was 'I am He. I'm in control.' He was not just the pastor in the church. He was The Man. Father Divine convinced him he was The Man — that he was God."
Throughout the early 1960s, Jones changed dramatically and his church started to become the cult he desired. He began to refer to the Peoples Temple as a "rainbow family" because of their diverse racial backgrounds. Jones and his wife adopted several children of various ethnicities and had one biological child together.
In 1961, Jones claimed that he had a prophetic vision that the United States would be attacked with nuclear weapons and that everyone in Indianapolis would die a fiery death. He began looking into places to escape and live with his church members. He visited South America, including the country of Guyana where he and his followers would eventually settle. Jones spent a couple of years in Brazil, but eventually returned to Indianapolis when word reached him that his congregation there seemed to be falling apart. After returning to Indiana, and with his South America plans on hold for the time being, Jones decided to relocate his church to a small, rural town in Northern California in 1965.
In California, the Peoples Temple grew exponentially. Jones' socialist and community-minded beliefs, mixed with his passionate preaching style, attracted many followers, Black and white, young and old. By the early 1970s, Jones opened branches of his church throughout California, including Sacramento, Fresno, and Los Angeles. Peak membership was about 20,000 people. Jones then decided to relocate the church's headquarters to the progressive city of San Francisco, where he believed his message would resonate strongly. Jones' hunch was correct, and he became influential among San Francisco's politicians because people running for office knew the charismatic preacher could deliver crucial votes to propel candidates to the next level.
Nancy Wong/Wikimedia Commons
January 1977photo by Nancy WongReverend Jim Jones (2nd from right)is given an award on Martin Luther King, Jr. Day at Glide Memorial Church, 330 Ellis Street by Reverend Cecil Williams (3rd from right) in San Francisco.
As Jones' power grew, so did his wealth. Church members routinely turned over up to 40 percent of their earnings to Jones — many later claimed they did this out of fear. Jones had made a complete transformation from an idealistic preacher on a mission to help the oppressed to a power-hungry cult leader who ruled through intimidation, fear, and emotional, mental, and physical abuse.
Jones had became increasingly paranoid as he developed a major drug habit. He abused amphetamines to keep him going during the day, and downers to help him sleep at night. Jones also slept with as many partners as he wanted to. He had become a real-life cliché: a worshipped man whose life revolved around sex, drugs, and money. But despite the many warning signs of a possible chaotic implosion, his followers stood by Jones.
As the 1970s wore on, allegations began to surface about the many abuses Jones committed in the name of his church. His apocalyptic sermons grew darker as his drug use spiraled out of control.
In the summer of 1977, Jones and his Peoples Temple followers relocated to a tract of land that had been previously purchased in the jungles of Guyana. There, just a year and a half later, the world would be shocked when they learned that Jones' well-meaning utopian experiment had descended into chaos and horror, ending with the tragic deaths of nearly 1,000 men, women, and children.