Manson Murder House Reportedly Purchased By 'Ghost Adventures' Star Zak Bagans
Just prior to the 50th anniversary of the killings, Bagans allegedly bagged the home of victims Leno and Rosemary LaBianca for nearly $2 million.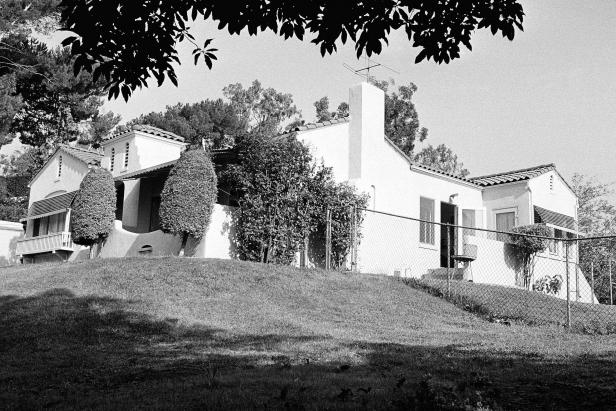 Manson Murders House
FILE - In this August 11, 1969 file photo the Hilltop home in Los Angeles' Los Feliz district, about five miles northwest of the downtown section where Leno and Rosemary LaBianca were found murdered. One of the Los Angeles houses where followers of Charles Manson committed notorious murders in 1969 is for sale. The home in the hilly Los Feliz district is where Leno and Rosemary LaBianca were slain the night after actress Sharon Tate and four others were murdered were murdered by Manson followers in Benedict Canyon. (AP PhotoFile)
The Rosemary and Leno LaBianca home [AP PhotoFile]
Reportedly, Bagans said of the property, "Yes, the house has a very dark and gruesome history, but I was also intrigued by the energy I felt while there … It was mysterious and palpable."
The 1,600 square foot, two-bedroom, two-bath home at 3301 Waverly Drive in the Los Feliz area of Los Angeles was reportedly listed at $1.98 million.
TMZ reported that "Zak jumped when he heard the home was up for sale … He literally ran to check out the house, and made a close-to-asking offer." TMZ also claims that Bagans said everything inside the home is "original," which was one of the property's most attractive aspects to him.
In addition, Bagans allegedly claimed that dogs have disappeared from the house and other occupants have been "freaked out by paranormal activity."
On August 10, 1969, diabolical counterculture guru Charles Manson reportedly led members of his homicidal hippie cult the Manson Family as they broke into the home of supermarket executive Leno LaBianca and his wife Rosemary, whereupon they fatally attacked the couple.
According to police records, Rosemary was stabbed 41 times, while Leno was stabbed 12 times, and a carving fork was left protruding from his stomach.
Manson Family members also allegedly carved the word "WAR" on Leno's midsection, and used blood to write "Rise" and "Death to Pigs" on the walls. In addition, police said they found the misspelled Beatles song title "Healter [sic] Skelter" written in blood on the refrigerator.
The LaBianca murders occurred one night after members of the Manson Family reportedly massacred pregnant Hollywood actress Sharon Tate and four others at her home on Cielo Drive.
Allegedly, Manson intended these two nights of murders to set off a "race war" that would end with black citizens triumphing over whites, but then turning to the Manson Family to rule over them.
Manson, who said the Beatles sent him coded messages through their music, allegedly deemed this grand plan "Helter Skelter."
The Manson Family and the murder of Sharon Tate have been making headlines of late due to the recent opening of the new Quentin Tarantino film, Once Upon a Time in Hollywood (2019). This August will also mark the 50th anniversary of the killings.
Watch the "Manson Family Murders" episode of Investigation Discovery's People Magazine Investigates: Cults on ID GO now!