The Women Who've Spoken Out Against R. Kelly
These brave women have come forward with allegations of abuse against R&B singer R. Kelly.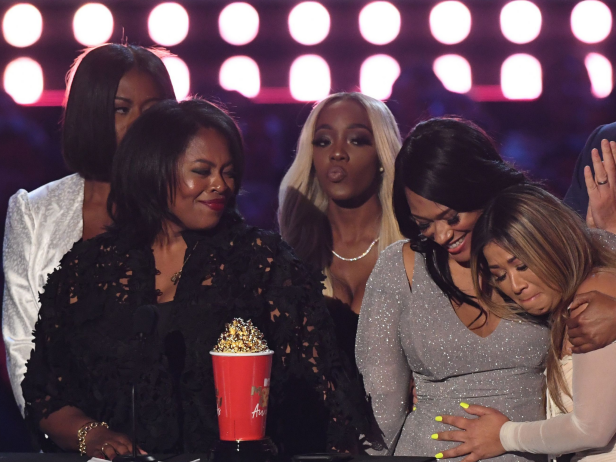 Brie Miranda Bryant (2ndL) Senior VP, Unscripted Development and Programming at Lifetime, flanked by Asante McGee (L), Lisa VanAllen (2ndR), Lizzette Martinez (R), and Faith Rodgers (3rdR), accepts the award for Best Documentary for "Surviving R. Kelly" onstage during the 2019 MTV Movie & TV Awards at the Barker Hangar in Santa Monica on June 15, 2019.
VALERIE MACON/AFP via Getty Images
Once known for his R&B hits, Robert Sylvester Kelly, better known as R. Kelly, is now notorious for his alleged crimes against women. The singer, who at 27 married a 15-year-old child in a secret ceremony, was charged with 10 counts of aggravated criminal sexual abuse. He has also been accused of detaining women against their will, sex-trafficking, and racketeering.
In 2021, after a six-week trial that included testimony from 45 witnessess, a jury found him guilty of racketeering and violations of an anti-sex-trafficking law known as the Mann Act.
On June 29, 2022, Kelly was sentenced to 30 years in prison.
Multiple women have come forward to share the cruelties they endured during their time with the singer. These are some of their stories.
The first witness to take the stand against Kelly, Jerhonda Johnson Pace met Kelly when she was 14-years-old. According to her testimony, she was 16 the first time they had sex. During her time with Kelly he dictated what clothes she could wear, the food she could eat, and when she was allowed to make a call or use the restroom. Pace alleged that he would often record their intercourse and make comments on how she could "improve". During her testimony, she stated that she had contracted herpes from Kelly, a claim that was verified when his primary care physician confirmed he had diagnosed the singer and encouraged him to inform his partners. Pace told the court that when she went to end her relationship with Kelly, he physically attacked and spit on her.
Sampson was working as an intern at Epic Records in 1999. She was 16. Sampson told the Chicago Tribune, "He makes you feel like he's a wounded puppy, like he's hurt so deeply, that there's good there - he just can't get it all out". Kelly began a sexual relationship with Sampson, keeping her in his thrall with promises to help her navigate the music industry. When she turned 18 she ended the relationship and filed a suit against Kelly, alleging that he had sexually abused her.
Martinez was a 17-year-old high school student when Kelly approached her at the mall. He proceeded to invite both she and her friend to dinner, and later to his recording studio. Martinez told People, "It turned very abusive a few months in. If I looked at any of his friends, he would hit me. There would be parties and other girls. It was a really fast life and not a good one." Kelly manipulated her emotionally, playing on a shared history of child abuse. When Martinez became pregnant at 19, he pushed for an abortion and told her that her dreams of becoming a singer were over. Martinez suffered a miscarriage and was later hospitalized after contracting mononucleosis from Kelly. She left the relationship soon after.
Jones, a well-known radio personality who started dating R. Kelly when she was 33, accused him of forcing her to have sex "on more than 10" occasions during a BBC Three documentary. She also asserts that Kelly repeatedly struck her over the course their two-year relationship. When he was indicted for aggravated sexual abuse, Jones told The Dallas Observer, "I have been speaking out for two years and dealt with victim shaming and it was the hardest part. However, behind the scenes myself and others were turning over evidence of our claims and reliving our nightmares in front of the world to help the voiceless and the ones who were still afraid to speak out."
In a piece for NBC news, Asante McGee detailed her experience as part of the singer's entourage. While the relationship seemed normal at first, she quickly became concerned with how young many of the girls in the group appeared and was later horrified to learn that some, who engaged in sex with Kelly, were underage. McGhee later learned that he had tasked other women and girls in the group with monitoring her behavior while he was away and reporting back to him. "He wanted us to feel that, that he had somebody watching your every move. There's a security at the end of the gate at the house, which he said was trained to stop us. He'd threatened your family, or said they're just jealous and trying to hold you back. He instilled fear into us, and made us believe whatever he'd told us."
Van Allen met Kelly at 17 on the set of a music video. Despite having been informed of her age, he began a sexual relationship with her. "I didn't assume he liked younger girls. At the moment, I thought he just liked me," she explained during an interview on Jada Pinkett-Smith's series Red Table Talk. She was later involved in a sex-tape that included a 14-year-old girl. She was also coerced into multiple threesomes. When asked about going public with her allegations Van Allen stated, "I had to do it for me, for other young girls. Someone has to have that conversation that nobody wants to have."
Known as "victim number 1", Hawkins was one of the first women to publicly speak out against Kelly in 1991. She was 15 when she met him in Chicago as a young aspiring singer. Afterwards, Hawkins asserted that Kelly brought her, along with several of her friends, to his home to engage in sex. The girls were between the ages of 14 and 16. In 1996 Hawkins sued Kelly, alleging that she "suffered personal injuries and severe emotional harm". The lawsuit was later settled for an undisclosed amount.