How Boxer Christy Martin Had To Fight To Save Her Own Life
Christy Martin was a breakout star in women's boxing, but the greatest fight of her life was the fight to save herself.
Christy had only been training for a year when she met her coach, James Martin, at a boxing gym. She was 22; he was already 47. According to ESPN, Jim didn't believe that a woman should be in the boxing ring, but he thought her talent was undeniable.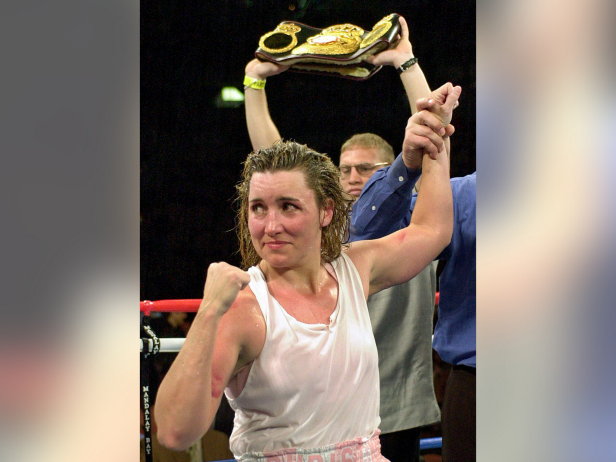 In this March 3, 2001, file photo, Christy Martin looks toward her corner following her unanimous 10-round decision over Jeanne "Boom Boom" Martinez, in Las Vegas. Martin was elected to the International Boxing Hall of Fame, Wednesday, Dec. 4, 2019. This was the first year that women were on the ballot.
Jim had convinced Christy, who is a lesbian, that if anybody knew about her sexuality, she would never work in boxing again. She told Sports Illustrated that he isolated her from her friends and family, convincing her she had no support apart from him. The physical violence escalated.
By 2007, Christy was using cocaine supplied by Jim to cope, according to ESPN. At times, she felt suicidal. Still, she continued to box. In 2010, Martin reconnected with a high school girlfriend and confided in her about Jim's abuse. Christy finally made plans to leave.
Despite her life-threatening injuries, Christy kept fighting. When Jim, who reportedly believed she was dead, got into the shower, Christy summoned the strength to stand up and run outside where a passing motorist drove her to the hospital. Jim was arrested a week later and claimed he acted in self-defense.
Today, Christy is married to Lisa Holewyne, another boxer, and they live in North Carolina. Christy has worked as a substitute teacher and runs her own company—Christy Martin Promotions, where she organizes boxing matches. She also runs Christy's Champs, an organization that seeks to help victims of family violence.
If you or someone you know is dealing with domestic violence or abuse from a romantic partner, you can visit the National Domestic Violence Hotline website, call 1.800.799.SAFE or text START to 88788 for help. Advocates are available 24/7 to help callers talk through their situation and connect them with local resources. There is no charge to reach out to the National Domestic Violence Hotline.
Inside the crimes connected to professional, college and high school football players.