Atlanta Is Building A Memorial To 29 Child Murder Victims Killed Between 1979 and 1981
The Atlanta Child Murders rocked the nation as Black children from Atlanta disappeared and then turned up dead.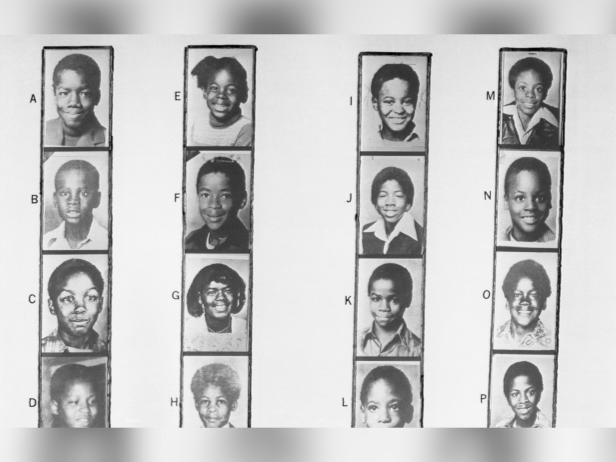 Atlanta's missing and murdered children are shown in the photo's below: (A) Charles Stevens murdered (B) Earl Lee Terrell murdered (C)Christopher Philepe Richardson murdered (D) Clifford Jones murdered (E) LaTonya Wilson murdered (F) Patrick Balazar murdered (G) Angel Lanier murdered (H) Yusef Bell murdered (I) Jeffrey Lamar Mathis murdered (J) Alfred James Evans murdered (K) Lubie Geter murdered (L) Darron Glass missing (M) Eric Middlebrooks murdered (N) Anthony Bernard Carter murdered (O) Edward Hope Smith murdered (P) Milton Harvey murdered. Not shown are Aaron Jackson, Jr. and Terry Lorenzo Pue, both found murdered.
It's been four decades since police arrested their one and only suspect—23-year-old Wayne Williams—in May 1981. Williams was arrested after police spotted him acting suspiciously near a bridge over the Chattahoochee River a few days before a dead body bobbed to the surface. That body belonged to 27-year-old Nathaniel Cater, and police believed they had enough evidence to link Williams to Cater's death, as well as the death of another man, 21-year-old Jimmy Payne.
Over a two-year period, at least 29 black children and young adults are murdered from low-income neighborhoods in 1980s Atlanta. In this emotional three-part series, we explore the mystery from those closest to the devastation.
Williams's role (or lack thereof) in the killing spree has been the subject of multiple podcasts and documentaries, and Williams has maintained his innocence in the case. The questions raised by independent investigators were enough to prompt the mayor to reopen the case in 2019.
As part of reopening the case, some of the DNA evidence collected from the bodies is currently undergoing testing at a Utah lab in hopes of definitively linking Williams to the crime or potentially identifying another suspect. Investigators are also re-examining murders between 1970 and 1985 to ensure that there are no other killings that fit into the haphazard pattern of the Atlanta Child Murders.

Williams, who is housed at the Telfair State Prison in southeast Georgia, was denied parole in 2019. The parole board cited the "insufficient amount of time served" as the reason for their denial, according to the Atlanta Journal-Constitution. Williams, now 63, will not be eligible for parole again until November 2027.