R. Kelly Convicted Of Multiple Child Porn Charges
On Sept. 14, 2022, the R&B singer was convicted of three of four counts of production of child pornography and three of five counts of enticement of a minor to engage in criminal sexual activity.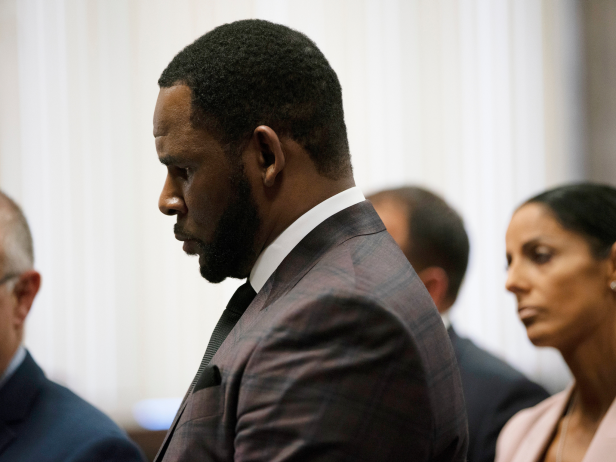 R&B singer R. Kelly appears at a hearing before Judge Lawrence Flood at Leighton Criminal Court Building June 26, 2019 in Chicago, Illinois. Prosecutors turned over to Kelly's defense team a DVD that alleges to show Kelly having sex with an underage girl in the 1990s. Kelly has been charged with mulitiple sex crimes involving four women, three of whom were underage at the time of the alleged encounters.
E. Jason Wambsgans-Pool via Getty Images
After a three week trial and ten hours of deliberation, on Sept. 14, 2022, jurors found R. Kelly, 55, guilty of three counts of production of child pornography and three counts of enticement of a minor to engage in criminal sexual activity.
Kelly, whose full name is Robert Sylvester Kelly, was accused in Chicago of 13 charges including producing child pornography, enticing minors for sex, and rigging his 2008 child pornography trial.
According to CNN, he was acquitted on one count each of conspiracy to obstruct justice and conspiracy to receive child pornography as well as two counts of receiving child pornography.
The conviction comes after multiple women bravely came forward to share their stories of abuse at the hands of Kelly. At the trial, a 37-year-old woman testified that she met Kelly through her aunt and when she was 13, Kelly became her godfather. The sexual abuse started when she was only 14 years old.
The woman, who went under the pseudonym Jane during trial, told the jury that her and Kelly had sex "hundreds" of times before she turned 18, starting when she was 15. He produced three videos of himself sexually abusing Jane, including videos where he showed himself urinating on her, the New York Times reported.
Kelly is already serving a 30-year sentence after a six-week trial in 2021 where a jury found him guilty of racketeering and violations of an anti-sex-trafficking law known as the Mann Act. He was sentenced on June 29, 2022. According to the New York Times, this new conviction could add years to the sentence.