Cousins Who Killed Together: The Murder Spree Of The 'Hillside Stranglers'
Most serial killers work alone. But cousins Kenneth Bianchi and Angelo Buono murdered as a team.
In the late 1970s, Los Angeles was a hotbed for serial killers. Randy Kraft prowled Southern California's seemingly endless network of highways, murdering young men. William Bonin, the "Freeway Killer," stalked the streets in a beat-up van, killing at least 21 boys and young men. Patrick Kearney preyed on young males until authorities captured him in 1977.
Amid all this murder and hysteria, a pair of cousins, Angelo Buono Jr. and Kenneth Bianchi, became the most well-known Los Angeles serial killers of the era. Their brutal killing spree lasted only four months, but the senseless killings the two committed terrorized Los Angeles and earned Buono and Bianchi a spot on the list of the most notorious serial killers in history.
Bianchi and Buono are both natives of Rochester, New York.
Buono was born in 1934. At age 5, he moved to Glendale, California with his mother and sister after his parents divorced. According to author Darcy O'Brien's 1985 true crime book, "Two of a Kind: The Hillside Stranglers," which Hollywood adapted into a 1989 television miniseries, Buono was a troublemaker from a young age. By the time he was 16, he was a high school dropout with a bad reputation and growing criminal history.
He was reportedly sent to the California Youth Authority for grand theft auto, escaped, and was rearrested. But his stays in the reformatory did not change Buono's ways. Instead, he became more defiant and continued to have run-ins with the law, according to O'Brien. Buono, it's alleged, considered himself a lady's man, and supposedly liked to refer to himself as the "Italian Stallion." He was reportedly married several times and had many children.
Bianchi was reportedly born in 1951 to a sex worker who gave him up for adoption. He was taken in by the Bianchi family at the age of 3 months and from a very young age, the boy was reportedly a compulsive liar who did anything he could to avoid working hard in school, according to O'Brien's book.
Young Bianchi was reportedly prone to fits of anger and temper tantrums. He got married at the age of 18, but the union only lasted for a few months. Bianchi allegedly had very high and strict expectations for women — for instance, he reportedly didn't approve of tight-fitting clothes or V-neck sweaters. He also disapproved of his first wife's career in nursing because he believed it opened her up to too many opportunities for illicit relationships, O'Brien reported. Despite the standards his partners were held to, it was said that he usually dated several girls at once. (Bianchi reportedly sued author Darcy O'Brien and "Good Housekeeping" magazine in 1987. The suit alleged a claim that Bianchi asked "his women for complete fidelity" was a "total fabrication.")
Bianchi reportedly floated from job to job in Rochester and became a skilled thief. He eventually sought more adventure and decided to make a big move. Through his mother and his aunt, he reportedly contacted his cousin, Angelo Buono, in California. Even though Buono was 17 years Bianchi's senior and had only met him once when Bianchi was a little boy, he purportedly agreed to let his cousin stay at his house in Glendale until he got on his feet. In 1976, Bianchi, then 25, moved out west.
Buono had become a skilled upholsterer throughout the years, and his home in Glendale had a shop attached to the front where he conducted his business. Bianchi was reportedly impressed by Buono's way with women. The two allegedly agreed to try their hand at being pimps to make extra money. According to O'Brien, the cousins took two girls under their wing and allegedly forced them into sex work in Buono's house under the threat of violence. The scheme reportedly worked until the girls managed to escape.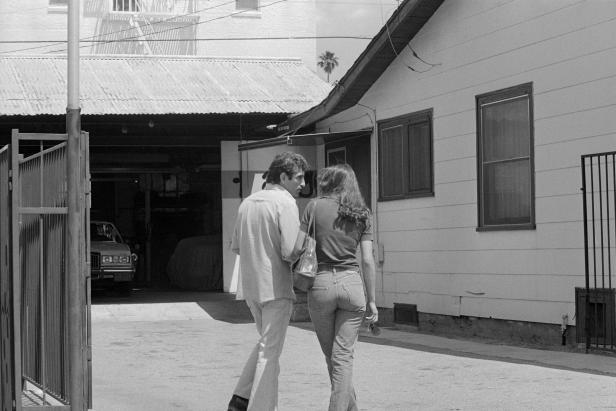 515543584
(Original Caption) Angelo Buono, cousin of Kenneth Bianchi, 27, talks to a girl in front of his upholstery shop as a press conference was being held in downtown Los Angeles announcing that Bianchi will be charged with the murder of 10 of 13 "Hillside Strangler" victims. Buono, according to Daryl Gates, Los Angeles Police Chief, could be considered a suspect because of his close association with Bianchi, who lived with Buono for a time.
Angelo Buono talks to a girl in front of his upholstery shop as a press conference was being held in downtown Los Angeles announcing that Bianchi will be charged with the murder of 10 of 13 "Hillside Strangler" victims [Bettmann/Getty Images]
The cousins allegedly wanted to remain in the pimping game. They came into contact with a sex worker named Yolanda Washington, who had a friend and colleague who had reportedly sold Buono and Bianchi a "trick list" of men who frequented sex workers. The men allegedly set up another young girl in Buono's house as a working girl and reportedly became enraged when they learned the list Noble sold them was an "outcall" instead of an "incall" list, meaning the men on the list wanted sex workers to come to them. They allegedly decided to teach her a lesson. One night in October 1977, Washington became the first victim, according to O'Brien.
After that, the cousins sometimes reportedly posed as police officers and flashed fake badges. They would allegedly pull over unsuspecting female drivers at night, abduct them, take them to the house of horrors in Glendale, and later dispose of the bodies on hillsides throughout Los Angeles, The New York Times reported.
During November 1977, Buono and Bianchi allegedly killed six women and girls. On November 13, the killers saw 12-year-old Dolores Cepeda and her friend, 14-year-old Sonja Johnson, board a bus and they decided to follow them, according to O'Brien. After the girls got off the bus, Buono and Bianchi reportedly motioned for them to come over to their car. They allegedly flashed their fake badges and purportedly told Cepeda and Johnson that an armed burglar was loose in the neighborhood and that they would give them a ride home for their safety.
Buono and Bianchi reportedly drove the girls to the house in Glendale, which they reportedly referred to as a "satellite police station." The two young girls were raped and killed, according to O'Brien. Their bodies were dumped on a hillside near Dodger Stadium and were discovered by a 9-year-old boy a week later.
Initially, the press dubbed the person responsible the "Hillside Strangler," believing it was the work of a lone individual terrorizing Los Angeles. It wasn't until later that investigators reportedly realized the killings had to be the work of two or more people.
Although the Los Angeles Police Department was struggling to get solid leads and suspects, they theorized the killers impersonated law enforcement to overpower and control their victims. In January 1978, the Washington Post reported, "Speculation that the strangler might be posing as a police officer has been heightened by the fact that none of the victims appeared to have struggled with her assailant, indicating that they either knew him or went with someone they trusted."
The slayings continued in late 1977 and early 1978. Authorities suspected a connection between the killings of Kristina Weckler, 20; Lauren Wagner, 18; and Kimberly Martin, 17. With police still at a loss, fear continued to grip the citizens of Los Angeles.
The last known murder took place on February 16, 1978. Bianchi reportedly arrived at Buono's shop and found his cousin speaking to a young, pretty female customer. Cindy Lee Hudspeth was 20 years old and had allegedly mentioned to Buono that she was looking for a side job to make extra money.
Buono, according to O'Brien, purportedly told Hudspeth he had a list inside his house of people with job openings. Hudspeth, unaware she was in the grip of two killers, agreed to go inside. While Bianchi kept the woman busy with small talk in the house, Buono reportedly grabbed their killing materials: cord, tape, and a gag. The cousins then assaulted Hudspeth for nearly two hours in the house before Bianchi strangled her, O'Brien wrote in his book.
The duo supposedly needed to get rid of Hudspeth's orange Datsun from the driveway in front of Buono's shop. They put the woman's body into the trunk of her car and Bianchi drove it up into the hills with Buono following in his Mustang, according to O'Brien.
Once they found an isolated spot, they reportedly pushed the Datsun over the edge of a cliff. The following day, a helicopter spotted the car and authorities discovered Hudspeth's body in the trunk. The final body count for Buono and Bianchi working in tandem in Los Angeles allegedly stood at ten.
One week after Hudspeth's slaying, Bianchi's girlfriend, Kelli Boyd, gave birth to their son. Despite this, Bianchi and Kelli were having difficulties in their relationship and were not living together, according to O'Brien. Kelli reportedly returned to her hometown of Bellingham, Washington for a fresh start and to raise her son near her parents. Bianchi stayed on in Los Angeles.
Later, Buono reportedly became furious with his younger cousin after he learned that Bianchi had been questioned in the Hillside Stranglers case by the police because he lived in the same apartment building as victim Kristina Weckler and across the street from Hudspeth. Authorities reportedly questioned him again when a girlfriend's mother called the police and allegedly said Bianchi was a suspicious character who should be checked out.
According to O'Brien, Buono became more enraged when he found out Bianchi had participated in a ride-along with Los Angeles police officers and had asked to see some of the Hillside Stranglers dumping grounds. Buono allegedly demanded Bianchi move to Washington state so he wouldn't bring any heat from the police. He reportedly gave Bianchi an ultimatum, telling his cousin to leave California or he would kill him. Bianchi decided to move to Bellingham.
Several months later, Bianchi was working as a security guard in Bellingham. On January 11, 1979, Bianchi, according to the book "Serial Murder: Modern Scientific Perspectives," lured two young women, Karen Mandic, and Diane Wilder, to a house with the promise of money in exchange for a housesitting job. When Mandic and Wilder arrived at the house, Bianchi reportedly pounced and strangled both of them. He put both bodies in Mandic's vehicle and left the car deserted in a cul-de-sac, O'Brien reported.
But Bianchi's time as a free man was running out. Mandic had told her boyfriend about the housesitting job and mentioned Bianchi's name, according to O'Brien. Police also allegedly found a note in Mandic's apartment, which said a "Ken Bianchi" had called her.
Investigators searched Bianchi's house and reportedly discovered a mountain of stolen goods. Police held him on a grand theft charge while they further investigated the double-homicide. Bianchi still had a California driver's license, and Washington state investigators immediately got in touch with police in Los Angeles. Investigators had already questioned Bianchi in the suspected serial killings reportedly due to his alleged proximity to two of the victims, so this new information broke the case wide open. Detectives from California headed to Washington to try to nail down their suspect.
According to O'Brien, Bianchi attempted to use a bizarre multiple-personality defense, in which he claimed he had an alter ego named "Steve" who committed the slayings. He also reportedly stated Buono had helped Steve commit crimes police believed connected to the Hillside Stranglers. After his multiple-personality defense broke down, Bianchi decided to cut a deal and admitted some guilt in California and Washington in exchange for avoiding the death penalty, O'Brien wrote. He also reportedly agreed to testify against Buono.
After lengthy trials, both Bianchi and Buono each received life prison sentences. Buono received convictions in the killings of Judy Miller, Lissa Kastin, Jane King, Dolores Cepeda, Sonja Johnson, Kristina Weckler, Lauren Wagner, Kimberly Martin, and Cindy Lee Hudspeth. Investigators reportedly suspected Buono of participating in the murder of Yolanda Washington, but he was found not guilty of that charge.
Bianchi pleaded guilty to and was convicted of murdering Yolanda Washington, Jane King, Kristina Weckler, Kimberly Martin, and Cindy Lee Hudspeth in California, and Karen Mandic and Diane Wilder in Washington.
On September 21, 2002, Buono died of natural causes in Calipatria State Prison at the age of 67. Bianchi is serving his sentence at Washington State Penitentiary in Walla Walla. He will be eligible for parole in 2025.
Read more: Two of a Kind: The Hillside Stranglers by Darcy O'Brien (1985, Signet), The Washington Post, CBS News, Los Angeles Times, Los Angeles Times (2), The New York Times, CNN, Serial Murder: Modern Scientific Perspectives, edited by Elliot Leyton (2017, Routledge)