P.I. Says Red Sox Hall Of Famer David Ortiz Was Targeted By Drug Kingpin In 2019
The results come after a six-month private investigation by a former Boston police commissioner who was hired by Ortiz to investigate who shot him at a Dominican nightclub.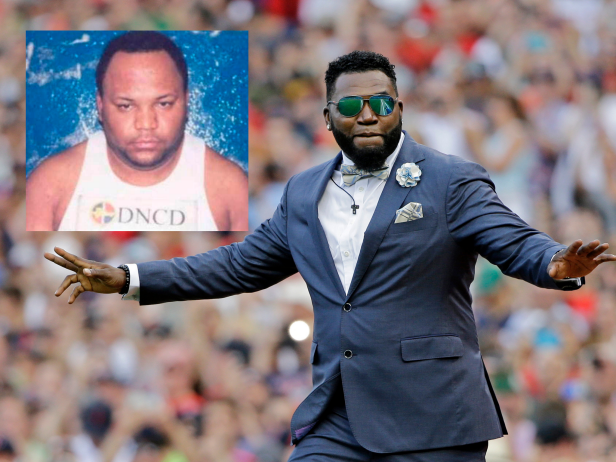 Boston Red Sox baseball great David Ortiz waves to fans, Friday, June 23, 2017, at Fenway Park in Boston as the team retires his number "34" worn when he led the franchise to three World Series titles. [inset] In this 2008 photo courtesy of the Dominican Republic police department shows César Emilio Peralta, also known as "César the Abuser," after his arrest on drug charges in Santo Domingo, Dominican Republic.
Elise Amendola via AP [main]; Dominican Republic police department via AP [inset]
National Baseball Hall of Famer David Ortiz was shot at a Dominican nightclub in 2019 because a jealous drug kingpin wanted him dead, former Boston police commissioner Ed Davis told the Boston Globe.
Davis, hired by the former Red Sox slugger, concluded, through a six-month private investigation, that drug lord César "The Abuser" Peralta felt disrespected by Ortiz,. His remedy for this "offense" was to place a bounty on Ortiz's head and to sanction a hit squad to kill him.
"Peralta said he had David shot," Davis said in an interview, sharing information he received from a U.S. law enforcement agency.
But Peralta's lawyer, Joaquin Perez, said Peralta had nothing to do with a hit on the now retired baseball player.
"As bad as César Peralta is, it's not even close to being in the ballpark to say he had something to do with this," Perez told The Globe. He also called Ortiz and Peralta "close friends."
Ortiz, a 10-time All-Star, told The Globe he knew Peralta only casually and said he was "sad, confused, angry, all kinds of emotions" when he got the news from Davis and Ric Prado, a former high-ranking CIA official who also took part in the investigation.
The Globe's report revealed that Dominican authorities allege the target was meant to be Ortiz's friend Sixto David Fernandez, because he was believed to be an informant. The two men were sharing a table when Ortiz was shot. The Globe says that theory of mistaken identity has been "widely ridiculed" because Ortiz and Sixto "bear little resemblance."
Thirteen people have been charged in relation to Ortiz's shooting and are awaiting trial in the Dominican Republic.
According to ESPN, Peralta is being held in a Puerto Rico jail without bail, on unrelated charges of conspiracy to import heroin and cocaine. In 2019, the U.S. Treasury designated Peralta a drug kingpin and he was extradited in December.