Millionaire Killed By Wife Dubbed The 'Milkshake Murderer'
On November 2, 2003, a wealthy American banker was drugged with a spiked strawberry milkshake and then bludgeoned to death by his wife in a murder that would shock Hong Kong's expatriate community and make headlines around the world.
Nancy Kissel killed her husband Robert, a senior executive for the investment bank Merrill Lynch, by slipping the sedatives into his drink and, incredibly, asking her six-year-old daughter to serve it to him. She then allegedly used a heavy ornament to beat him to death, rolled him up in a carpet, and called moving men to carry it to a rented storeroom. Police recovered the body there a few days later, wrapped in the carpet and plastic sheets.
On the surface, the couple appeared to have it all. Nancy and her three children had moved from New York to Hong Kong in 1998 when her husband took a top banking job that afforded them a luxury lifestyle including a $20,000 a month ocean-view apartment and servants to tend to her every need.
Kissel worked as a volunteer at the Hong Kong International School — but mainly spent her days shopping near the posh Parkview residential complex where the family lived. Despite the life of luxury, Nancy, who had once dreamed of pursuing an acting career, was unhappy and bored. She spent her days spending money, but soon began to resent her husband's long absences.
In an email to a friend, Nancy said the relationship was a sham masquerading as the best marriage in the universe.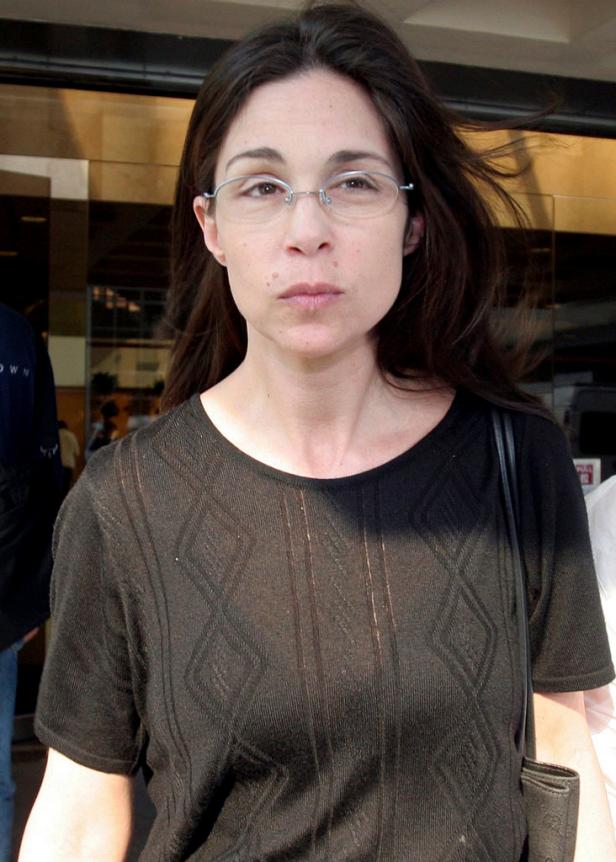 Hong Kong Milkshake Murder
FILE - In this Aug. 2, 2005 file photo, American Nancy Kissel walks out of Hong Kong's High Court. A Hong Kong judge Friday Nov. 19, 2010 ordered Kissel to stand trial again for the "milkshake" murder of her banker husband, handing a big setback to her defense team in the high profile case. Her retrial is expected to begin on Jan. 10, with a pretrial hearing on Jan. 4. (AP Photo/Vincent Yu, File)
American Nancy Kissel walks out of Hong Kong's High Court (Aug. 2, 2005). AP Photo/Vincent Yu, File
In 2003, the SARS crisis broke out, and Nancy and the children were evacuated back to the United States. She soon began an affair with Michael del Priore, a TV repairman.
After they later returned to Hong Kong, Robert became suspicious and installed software on her computers so that all of her emails were copied to him. He soon found messages from her lover, including one that read, "I love you when you call my name. It makes me melt."
On the day he was killed, her husband had told friends that he would discuss a legal separation on the grounds of infidelity.
Prosecutors alleged that Nancy was motivated by money — they said that she had been afraid to lose her luxurious lifestyle in the divorce, including the hefty life insurance payments on her husband.
But Nancy claimed that Robert had been abusive. She said that he took cocaine, drank excessively, and forcibly sodomized her — and that Robert had assaulted her on the day of his death.
But prosecutors hit back by detailing how Nancy had tried to cover her tracks after the murder. The day after she killed Robert, she wrote emails to cancel appointments and explain her husband's absence from work.
"My husband is not well," she said in one email to a friend, according to the prosecution. "I need to take care of something. Sorry, I will be in touch soon."
At trial, it emerged that Robert had consulted divorce attorneys a few months before his death — but had ignored advice to change the main beneficiary of his will.
In September 2003, Robert told a New York–based private detective whom he had hired to spy on Nancy that he believed she was trying to poison him. The investigator urged him to go to the police with blood and urine samples — but he did not, prosecutors said, because he felt guilty for suspecting his wife.
Nancy was convicted of Robert's murder — but in 2010, the conviction was overturned and a new trial was ordered. Then on March 25, 2011, she was again found guilty of her husband's murder and sentenced to life in prison. She is currently behind bars at the Tai Lam Centre for Women, and still maintains that she killed Robert in self-defense.
The couple's three children are currently being raised by family.
In another tragic twist, Robert's brother Andrew, an American real estate developer, was found bound and stabbed to death on April 3, 2006, at his rented estate in Greenwich, Connecticut.
Andrew had been accused of defrauding a New York co-op board of millions of dollars. The motive for his murder was really a mystery, though, as there were so many people who had problems with him, including those from the U.S. Justice Department, several multi-billion dollar corporations/conglomerates — and his own wife.
In 2008, Andrew's chauffeur, Carlos Trujillo, and his cousins Leonard Trujillo and Jair Trujillo were arrested and charged in his death. According to the prosecution, the motive for the murder was the Trujillos' fear that their involvement in laundering money for Kissel would be exposed.
Carlos Trujillo was acquitted of the murder charge but pleaded guilty to attempted murder and received a six-year prison sentence. Leonard Trujillo pleaded guilty to manslaughter and conspiracy to commit murder and received a sentence of 20 years.
To learn more about this case, watch the "High Stakes In Hong Kong" episode of Investigation Discovery's Passport to Murder on ID GO now!