Florida Man Accused Of Murdering His College Football Teammate In 2006
Former University of Miami player Rashaun Jones recently pleaded not guilty to fatally shooting Bryan Pata after practice.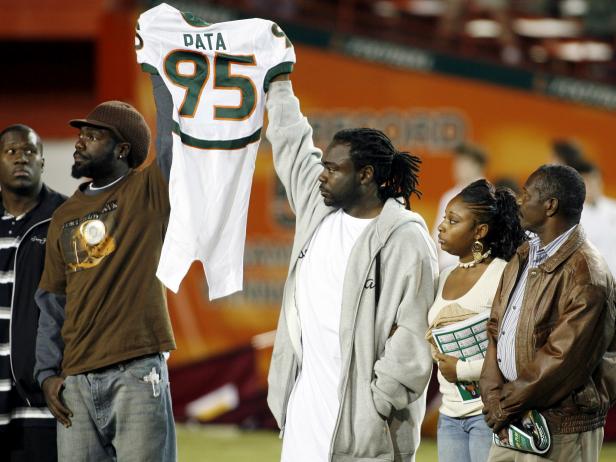 In this Nov. 23, 2006, file photo, Bryan Pata's family hold up his jersey at the beginning of an NCAA college football game between Miami and Boston College at the Orange Bowl in Miami. Rashaun Jones, 35, of Lake City, a former University of Miami football player was arrested Thursday, Aug. 19, 2021, in connection with the 2006 fatal shooting of his teammate Bryan Pata. Pata, a 22-year-old, 6-foot-4, 280-pound defensive lineman, was shot several times outside of his Kendall, Fla., apartment the night of Nov. 7, 2006. (AP Photo/Luis M. Alvarez, File)
AP Photo/Luis M. Alvarez, File
A former University of Miami football player is accused of murdering his teammate in Florida over 15 years ago.
According to an ESPN investigation, police allegedly believed then-20-year-old Rashaun Jones, a defensive back with the team, was connected to the deadly incident and found out he and the victim had a history of ongoing issues.
"Pata was much larger physically than Jones and it was learned that allegedly Pata had previously beaten Jones during a physical altercation," Miami-Dade State Attorney Katherine Fernandez Rundle claimed following Jones' Aug. 19 arrest in Marion County, Florida. "Additionally, about two months prior to the homicide, Pata had told his brother Edwin that Jones had allegedly threatened to shoot him in the head."
Discovery documents recently obtained by ESPN show that the evening of Pata's murder, a witness told police he heard a "pop" and then saw a person "jogging" away from the area of the shooting. The man picked Jones out of a photo lineup in 2007 and again in 2020.
This six-part series delves into violent crimes surrounding local high school football teams across America. From the football captain who targets his own team's cheerleaders, to the local football star gunned down by a jealous peer, these are stories of teenage dreams that turn into nightmares. Watch the season finale Tuesday, Feb. 8 at 10/9c or stream on ID GO.
Data records for Jones's cell phone appear to indicate he was not at home around the time Pata died — despite his statements to the contrary — and ballistics tests showed a bullet recovered from the victim's body was a match to a .38 caliber weapon that Jones's teammates alleged he owned, the Associated Press reported, citing Jones's arrest warrant.
"The Pata family has waited a long time to see the individual they had believed involved in Brian's death arrested and charged," Rundle said last summer. "While the time needed to build sufficient evidence to ethically charge in a homicide can sometimes feel endless, families should know that the passion and determination of police and prosecutors to resolve unsolved cases does not diminish."
In September, Jones, now 36, pleaded not guilty to second-degree murder — a case the defendant's lawyer called "unusual."
"I mean, the arrest warrant talks about evidence that police gathered back in 2007, sat on for 15 years, and re-interviewing the same eyewitness that they allegedly interviewed back in 2007 without any further evidence in the arrest warrant," Michael Mirer pointed out to ESPN, adding his client "maintains his innocence and is looking forward to his day in court."