Laundrie Family Attorney Says Remains Found In Florida Belong To Brian Laundrie
Gabby Petito's fiancé and person of interest in her fatal strangulation disappeared in mid-September after saying he was going for a hike.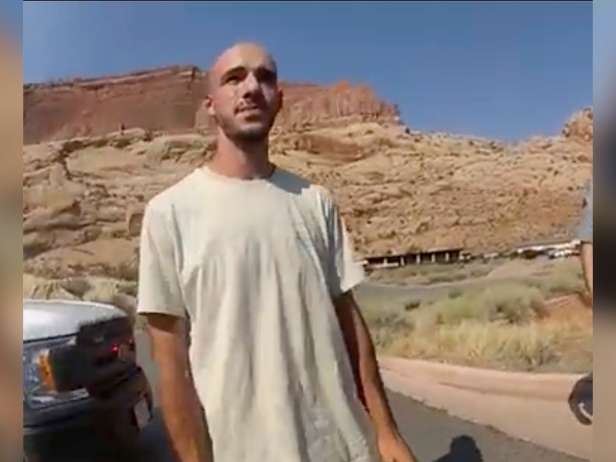 This Aug. 12, 2021 file photo from video provided by the Moab, Utah, Police Department shows Brian Laundrie talking to a police officer after police pulled over the van he was traveling in with his girlfriend, Gabrielle "Gabby" Petito, near the entrance to Arches National Park in Utah. The FBI on Thursday, Oct. 21, 2021, identified human remains found in a Florida nature preserve as those of Laundrie, a person of interest in the death of girlfriend Gabby Petito while the couple was on a cross-country road trip. (The Moab Police Department via AP, File)
The Moab Police Department via AP, File
On October 20 — the same day Laundrie's parents, Chris and Roberta, joined the search for their son — what appeared to be human remains and the fugitive's backpack and notebook were discovered near a bridge in the 160-acre Myakkahatchee Creek Environmental Park in North Port. The wildlife area is adjacent to Carlton Reserve, where investigators previously focused their search efforts. Myakkahatchee Park is also where Laundrie's car was found after he disappeared.
Laundrie's father reportedly discovered the backpack off of a trail his son frequented. "As they went further in, Chris ventured off the trail into the woods. He was zigzagging in different areas. Law enforcement was doing the same thing. And Roberta Laundrie was walking down the trail," Laundrie family attorney Steven Bertolino told CNN. "At some point, Chris locates what's called a dry bag. The dry bag is a white bag, laying in the woods, say 20 feet or so off the trail."
According to Bertolino, Laundrie's parents informed law enforcement at the beginning of the manhunt that "Brian would be most likely in the preserve in this particular area."
The lawyer explained that Laundrie's parents went to the park to help the search since it had just that morning reopened to the public, and he called Chris Laundrie locating the bag "happenstance."
"It's quite sad, you can imagine as a parent, finding your son's belongings alongside some remains," Bertolino said. "That's got to be heartbreaking. And I can tell you that they are heartbroken."
According to officials, the area had been underwater until recently. "Today, when I walked back there, I got to see firsthand the treacherous conditions that they were working in," Lee County Sheriff Carmine Marceno said during an October 21 press conference. "We're talking about water levels above almost the chest area. Rattlesnakes, moccasins, alligators. And these heroes go out there."
FBI Special Agent in Charge Michael McPherson said a team will likely be processing the scene for "several days."
Laundrie, 23, was the only person of interest in the strangulation death of his 22-year-old fiancée, Petito. His parents reported him missing on September 17, just over two weeks after he returned to Florida alone from a cross-country road trip that he took with Petito and four days after he left his parents' home to go for what he said was a hike.
Daniel Robinson's Jeep was found crashed in a ravine with his wallet and keys still inside.