Another Stairwell, Another Body: Michael Peterson's First 'Staircase Murder'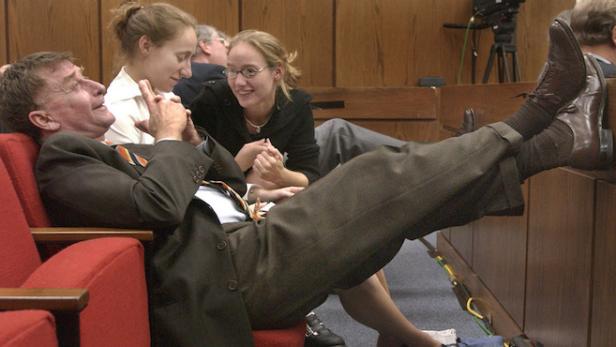 WRITER WIFES DEATH
Defendant Michael Peterson sits with Margaret, center, and Martha Ratliff, daughters of Elizabeth Ratliff, after the jury began deliberations in Peterson's murder trial Monday, Oct. 6, 2003, in Durham, N.C. Peterson is accused of killing his wife, Kathleen Peterson. Elizabeth Ratliff, a school teacher at an American military base in Germany, was found dead in 1985 after being seen with Peterson the previous night. Michael Peterson cared for her daughters after her death. (AP Photo/Pool, Chuck Liddy)
AP Photo/Pool, Chuck Liddy
The case that's become known worldwide as the "Staircase Murder" has proven to be a puzzle box of freak occurrences and shocking revelations — including that it's actually the second "staircase murder" in which key figure Michael Peterson was involved.
On December 9, 2001, Michael Peterson, a well-regarded writer of military novels, dialed 911 to report that his wife, Kathleen Peterson, was lying lifeless in their home after having fallen down "15, 20" steps.
Over the next two years, Peterson went on to be convicted of killing Kathleen and sentenced to life in prison without the possibility of parole — but only after all manner of the odd secrets came to light.
The whole case itself took an unexpected turn in 2009 with the introduction of the "Owl Theory" — the idea that a predatory owl attacked Kathleen and prompted her fatal fall — and numerous wildlife and raptor experts officially called it credible.
That all pales in comparison, however, to the fact that, 16 years prior to Kathleen's demise, Michael Peterson was the last person to be alone with yet another woman who suffered head injuries and was discovered dead at the bottom of a stairwell.
It happened in 1985. Michael and Kathleen were visiting Germany and dropped by the home of their friend, Elizabeth Ratliff.
After dinner, Kathleen went back to the couple's hotel, but Michael hung around to help put Ratliff's two daughters to bed.
The following morning, a housekeeper found Ratliff dead at the foot of a stairwell. Shortly thereafter, Michael and Kathleen Peterson adopted Elizabeth Ratliff's two little girls, moved them to America, and raised them along with their two sons.
The initial investigation into Ratliff's demise didn't arouse much suspicion. Police didn't even take photographs at the scene. A cursory exam concluded that Ratliff had suffered a stroke and accidentally took a tumble.
During Michael Peterson's trial for killing Kathleen, however, because of the uncanny similarities between the two cases, authorities exhumed and reexamined Elizabeth Ratliff's body.
This time, a North Carolina coroner performed a second autopsy and reclassified Ratliff's cause of death as "homicidal assault."
Such a "coincidence" proved powerfully provocative in the Durham County courtroom.
The D.A. called Cheryl Appel-Schumacher as a witness. She was a longtime friend of Ratliff's who saw the body at the foot of the stairs and the aftermath of the supposed "accident." While on the stand, Appel-Schumacher said
"There was blood splatter all over those walls. How much, I can't say."
From there, prosecutors didn't come right out and accuse Michael of also murdering Ratliff, but they did introduce the 1985 death as evidence that Peterson would know exactly how to "fake" an accident almost identical to the one that killed Kathleen.
The staircase murder of Elizabeth Ratliff remains officially unsolved.
As mentioned, Michael Peterson was convicted of murdering Kathleen Peterson, but his conviction was overturned in 2011. In 2017, on the eve of a new trial, Peterson entered an Alford plea to voluntary manslaughter.