The Downfall Of Bill Cosby: From 'America's Dad' To Ex-Prisoner
The disgraced comedian's aggravated assault conviction was overturned in 2021. Approximately 60 women have accused the comedian of being a sexual predator who used drugs to facilitate his alleged crimes.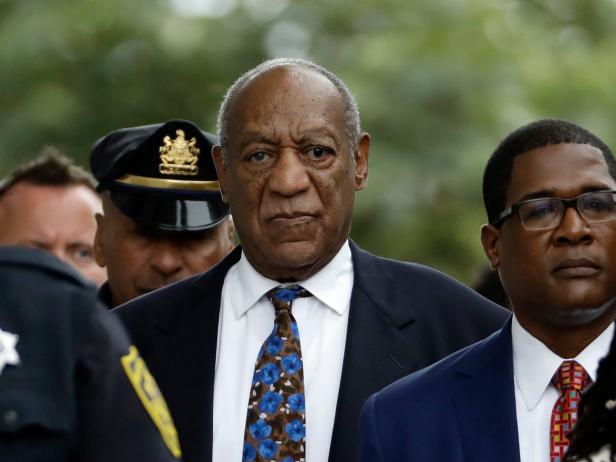 Bill Cosby departs after a sentencing hearing at the Montgomery County Courthouse, Monday, Sept. 24, 2018, in Norristown, Pa. Cosby's chief accuser on Monday asked for "justice as the court sees fit" as the 81-year-old comedian faced sentencing on sexual assault charges that could make him the first celebrity of the #MeToo era to go to prison.
Bill Cosby was once beloved as "America's Dad," but behind the scenes the actor and comedian lived a double life.
Allegations against Cosby date as far back as the 1960s.
Though the 84-year-old former comedian has always in public repeatedly denied he ever sexually assaulted women, allegations made against him from scores of accusers stretch back over 50 years to at least the mid-1960s.
According to Kristina Ruehli, in December 1965, Cosby invited her to what he said would be a party at his home.
"When I arrived at his house — it was probably around 10 p.m. — I was surprised that there was no one else there," she told Philadelphia Magazine in 2014.
"I drank a bourbon-and-7 at the time. I could really hold my liquor. I'm Irish. And I had a couple of those — just two — and then I just don't remember much," she said.
"He must have drugged me," Ruehli, now 78, claimed. "There is just one point at which I was having a drink and feeling normal and the next I was somehow passed out completely."
When she came to, she alleged, Cosby "had his shirt off" and "he had unzipped his pants."
Ruehli claimed she was able to push herself away from Cosby, and she threw up in the bathroom because she was feeling so sick.
"I never saw him again in my life…Every time I saw him on TV, I thought, 'This isn't the good guy that he's portrayed to be.'"
A deluge of accusers go public with shocking allegations against Cosby in 2014 and 2015.
In 2014, comedian Hannibal Buress opened the floodgates when he mentioned Cosby while performing at a Philadelphia comedy club.
"That s**t is upsetting," Burress said during the set. "If you didn't know about it, trust me. You leave here and Google 'Bill Cosby rape.' It's not funny. That s**t has more results than Hannibal Buress."
The incident was covered by a news outlet, and the Washington Post followed up on Nov. 13, 2014, with an op-ed penned by Barbara Bowman, 54. In the piece, she wrote that the comedian "won my trust as a 17-year-old aspiring actress in 1985, brainwashed me into viewing him as a father figure, and then assaulted me multiple times."
For a long time I thought it was something that only happened to me, and that I was somehow responsible.
Beverly Johnson
The following month, supermodel Beverly Johnson, 69, detailed her own alleged experiences with Cosby for Vanity Fair.
"For a long time I thought it was something that only happened to me, and that I was somehow responsible," she noted in the article. "So I kept my secret to myself, believing this truth needed to remain in the darkness. But the last four weeks have changed everything, as so many women have shared similar stories, of which the press have belatedly taken heed."
Over the following months, a total of around 60 women came forward with accusations Cosby was a sexual predator.
Prosecutors are able to charge Cosby in connection to only one case.
Most of the alleged acts Cosby was accused of committing fell outside the statute of limitations. On Dec. 30, 2015, however, Montgomery County District Attorney Kevin Steele was able to file charges against Cosby two weeks before the statute of limitations in the Andrea Constand case were up.
"This was probably seen as a piece of symbolic justice," NBC News legal analyst Danny Cevallos noted. "That if they could find one person for whom it might quietly vindicate or somehow bring justice to the women who could never bring their case because the statute expired."
Former Temple University employee Andrea Constand claimed Cosby drugged and assaulted her at his Pennsylvania home in 2004. He has always denied the allegations, insisting the sexual encounter was consensual.
Constand filed a police report on Jan. 22, 2005, which sparked an investigation into the alleged incident, but prosecutors ultimately declined to pursue charges in the case.
She then filed a civil lawsuit against Cosby, who was deposed by Constand's attorneys over four days in 2005 and 2006. ABC News reported that "Cosby [testified] the following: He got drugs to give women for sex…he hid the affairs from his wife, and he routed payments to multiple women."
Cosby settled the suit with 48-year-old Constand for $3.38 million in November 2006.
Cosby is convicted of aggravated assault in 2018.
After Cosby was charged in 2015, he stood trial twice over the next three years.
At his first trial in June 2017, a jury of seven men and five women could not reach a unanimous decision during six days of deliberations on the three counts of felony aggravated indecent assault and became hopelessly deadlocked.
In April the following year, Cosby was retried on three counts of aggravated indecent assault, and Constand and other women who claimed Cosby drugged and molested them took the stand and testified as prosecution witnesses.
On April 26, 2018, Cosby was found guilty of three felony counts of aggravated indecent assault in connection to cases involving Constand and two others.
One juror, Harrison Snyder, told Good Morning America it was Cosby's deposition from the Constand civil lawsuit that helped him reach a decision on the defendant's guilt. "Mr. Cosby admitted to giving these Quaaludes to women, young women, in order to have sex with them," he said.
In September 2018, a judge sentenced Cosby to serve anywhere from three to 10 years in a Pennsylvania penitentiary.
The disgraced comedian's conviction is overturned in 2021, and he's released from prison.
In 2020, Cosby's attorneys appealed his conviction to the Pennsylvania Supreme Court, arguing that Cosby should not have been tried due to a non-prosecution deal — never put in writing — that he made with the then district attorney before he was deposed for Constand's civil suit 15 years earlier.
I will fight. I will be a voice for the change that is needed. Whatever country, state wherever I'm needed, I will be in service there to fight.
Andrea Constand
"Everybody is entitled to their own celebrations, but it doesn't change the fact that he's a sexually violent predator and he will always be my rapist," Constand said.
Still, she noted, "I will fight. I will be a voice for the change that is needed. Whatever country, state wherever I'm needed, I will be in service there to fight."