Julian Edelman Surprises Girl Bullied For Playing Football With Super Bowl Tickets
When the Patriots heard Dejah Rondeau's story, they brought her to Foxborough, where she toured the trophy room and shook hands with Julian Edelman.
Julian Edelman #11 of the New England Patriots during the AFC Divisional Playoff Game against the Los Angeles Chargers at Gillette Stadium on January 13, 2019, in Foxborough, Massachusetts [Adam Glanzman/Getty Images]
FOXBOROUGH, MA — Julian Edelman of the New England Patriots gave a seventh grade football player from Exeter, New Hampshire, the surprise of a lifetime when he met her for a game of catch — and gave her tickets to Sunday's big game.

Dejah Rondeau is the quarterback for the Exeter Seahawks, and has faced bullying in school for playing football while female. She wears No. 11 in honor of the Patriots wide receiver.

Rondeau's mother, Nichole Brock, said that her daughter has been targeted by bullies for playing her sport, according to Seacoastonline. "Some people don't want to accept a female quarterback. She'll have to put in 110 percent when others are putting in 50," Brock said. "But Dejah becoming the quarterback is the best thing that could happen to her. She's worked really hard at it."

When the Patriots heard Rondeau's story, they brought her to Foxborough, where she toured the trophy room and shook hands with Edelman.

Rondau, who has attended Edelman's camp for young football players, said she was thrilled to meet her idol.
"Heard we've got a quarterback here to take [Tom] Brady's spot," Edelman said. "I heard about your story, about going out there and having a challenge, of dealing with adversity because people not accepting this, that," Edelman told her.

"My respect level for you is just through the roof because you just ignored all the noise and you played the game we all love and that's football."

Edelman then gave Rondeau two tickets to Super Bowl LIII in Atlanta on Sunday.
She said afterward that the experience was "crazy" and added: "I'm just really excited to go."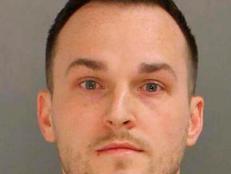 Matthew Aimers has been charged with simple assault, disorderly conduct, and resisting arrest.