5 Facts About The Unsolved Disappearance Of Madeleine McCann
The British toddler has never been found, and the cold case remains one of the most infamous in history.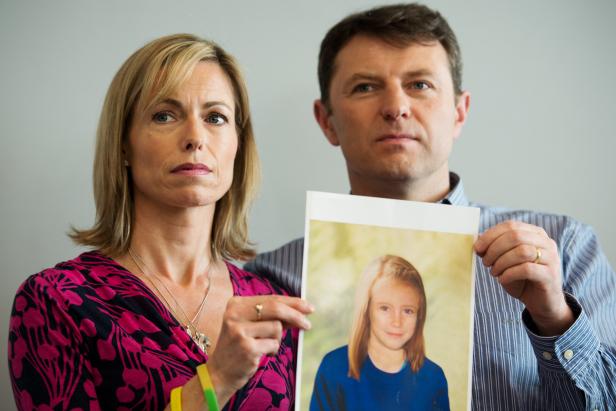 DV1159872
Parents of missing girl Madeleine McCann, Kate (L) and Gerry McCann (R) pose with an artist's impression of how their daughter might look now at the age of nine ahead of a press conference in central London on May 2, 2012 five years after Madeleine's disappearance while on a family holiday in Portugal. Aged three at the time, the artist's impression depicts how Madeleine may now look, based on family photos of her, along with childhood images of her parents. AFP PHOTO / LEON NEAL (Photo credit should read LEON NEAL/AFP/GettyImages)
Kate and Gerry McCann with an age-progressed image of Madeleine at nine [LEON NEAL/AFP/GettyImages]
In May 2007, three-year-old Madeleine McCann disappeared from a hotel room in the resort town of Praia de Luz, Portugal, while her parents, Gerry and Kate, were eating dinner next door.
Madeleine's twin siblings, Sean and Amelie, were found sleeping peacefully in the room — but the little girl had vanished without a trace. The British toddler has never been found, and the cold case remains one of the most infamous in history.
Here are five things to know about the case that made headlines around the world:
1. Scotland Yard developed a sex trafficking theory.
London's Metropolitan Police opened its own inquiry, which they named "Operation Grange." According to British media sources, Scotland Yard developed a theory that Madeleine could have been stolen by child traffickers, or kidnapped during a burglary gone wrong.
Over the years, hundreds of tips flooded in from people who claimed that they had seen Madeleine in locations from Morocco to Lagos, Nigeria, and Malta. The task force spent over $15 million dollars, but failed to unearth any significant clues.
2. Two early sightings — and a psychic — made headlines.
Jane Tanner, one of the group of people dubbed the "Tapas Seven" by the press due the fact that they were dining with the McCanns on the night Madeleine disappeared, reported that she saw a man carrying a child.

Tanner said she left the restaurant shortly after 9 P.M. to check on her daughter and passed Gerry McCann coming back from checking on his children.

Tanner said that she saw a man at approximately 9:15 carrying a young child near Madeleine's bedroom heading east. She described the man as white, dark-haired, five seven to five nine, wearing gold or beige trousers and a dark jacket, and said he did not look like a tourist.

The sighting became important because it offered investigators a time frame for the abduction.

In October 2013, British police said they had identified the man Tanner saw, and stated that it had been a British man on vacation who had picked up his daughter from the Ocean Club night crèche.

But a second sighting — which was reported by Martin and Mary Smith, who had been in Praia da Luz on holiday from Ireland — was deemed to be more credible. The couple told police that they saw an unidentified man at around 10 P.M. walking away from the Ocean Club carrying a young girl with blonde hair and pale skin who was wearing light-colored pajamas and had bare feet.

They described the man as having an average build with short brown hair, and wearing beige trousers.

E-fits based on the Smiths' testimony were created in 2008 by Oakley International, but the suspect has never been found.

The McCanns were also contacted by less credible sources, including psychics.
Psychic Susan Kelly claimed she saw what happened to the child in 2007 through three "visions" — but said that Kate and Gerry would have to make her a financial "offer" before she would give details.

The McCanns reported Kelly to the police and Clarence Mitchell, a spokesman for the McCanns, called the claim an "extortion scam" and "cruel hoax."

According to the family, none of the psychic tips led to any credible information.
3. The man named the first "official" suspect said his life was ruined.
Early in the investigation, Portugese police focused on 33-year-old Robert Murat, a British-Portuguese man who lived near apartment 5A.

Murat offered to translate witness statements during the police search for Madeleine, and later was labeled an "arguido" — or official suspect — by the Portugese police.

A journalist became suspicious of Murat's involvement in the case and reported him to police.

At the time, newspapers falsely claimed that he was a sexual predator, had been seen outside the McCann's apartment, and had a "secret chamber" inside his home. Eventually, Murat sued some of the publications and won an estimated £600,000 in various lawsuits.

In 2009, Murat told a student audience at Cambridge University that he had "felt like a fox being pursued by a pack of hounds ... [caught] between a Kafka novel and the Will Smith movie Enemy of the State."

According to The Guardian, Murat stated that the accusations leveled at him by British tabloids "came close to destroying our lives."
4. The police made early mistakes at the crime scene that compromised the investigation.
The police admitted that many mistakes were made during the crucial first 48 hours of the investigation.
Officers were not given descriptions of Madeleine right away. They did not canvass the area for several hours, and roadblocks were not put into place until the next morning.

It took several days to issue a global missing persons report, and the police failed to interview many of the people who had been staying at the resort.

Portugese police also reportedly failed to properly secure the crime scene, and allowed many people to enter 5A before it was closed off. A crowd gathered next to the children's bedroom window, and may have destroyed valuable evidence.
5. The cadaver dog controversy remains a mystery.
The cadaver dogs, which were brought on the scene in August 2007, would become a huge source of controversy in the case.
Police brought the dogs in to search the McCanns' apartment, and one of them reacted by grabbing Madeleine's favorite stuffed animal, "Cuddle Cat." The dogs also allegedly barked once they came to the McCanns' car, which they rented 25 days after their daughter went missing, and from which DNA was collected.

At the time, this was used by Portuguese authorities to investigate the theory that Madeleine might have died in the Praia da Luz holiday complex — and that Gerry and Kate could have been involved.

But many of the media reports left out one crucial fact: The DNA report was originally written in English, but was then translated into Portuguese for the authorities. However, the report that was translated omitted crucial statements about the limitations of the DNA.
In reality, there was no evidence to show that Madeleine was the source of the DNA found in the car. According to investigators, no DNA was found that was a match for Madeleine.
Watch the special Madeleine McCann: An ID Murder Mystery now on ID GO!