What You Need To Know About Tekashi69 & His Alleged Crimes
The rainbow-haired rapper has racked up a substantial number of arrests — most recently for racketeering and firearms charges — and, if found guilty, the performer could be put behind bars for life.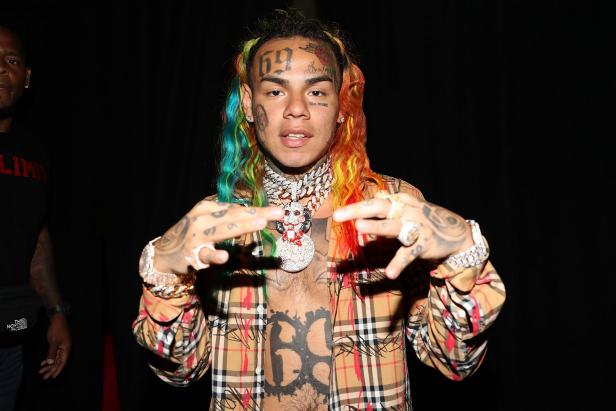 775218463SZ038_Made_In_Amer
Daniel Hernandez, the 22-year-old performer known professionally as "6ix9ine" or "Tekashi69," rose from making YouTube videos to global superstardom in a shockingly short period of time. But the rainbow-haired rapper has also racked up a substantial number of arrests — most recently for racketeering and firearms charges — and, if found guilty, the performer could be put behind bars for life.

Authorities denied bail after deeming him a danger to the community, so he is currently behind bars at the Brooklyn Metropolitan Detention Center.

His life of crime has not stopping him from rising to the top in hip-hop. His album Day69: Graduation Day is becoming one of the top records on iTunes following its February release, and he has worked with rappers Kanye West and Nicki Minaj.
Below, we share a few key facts about Hernandez.
1. He has a gang connection, and feuds with other rappers that seem reminiscent of Biggie and Tupac.
A prosecutor said that evidence points to the fact that Hernandez directed or participated in multiple acts of violence as part of the deadly New York gang 9 Trey Bloods.

In May 2018, he was involved in a shooting with the entourage of fellow New York rapper Casanova as part of a feud. This incident led to Hernandez losing a $5 million headphone deal and being banned from the Barclays Center. Throughout 2018, Hernandez was involved in feuds with a number of Chicago drill artist from the GloGang collective, most notably Chief Keef. Allegations of domestic abuse and relationship issues played out to millions of fans on social media. In asking the judge to deny bail, the prosecutor alleged that the rapper was a flight risk because of his "worldwide connections" and hundreds of thousands of dollars in cash.
2. He has a long rap sheet, including charges of fondling an underage girl.
Hernandez was previously arrested in July on a Texas warrant for allegedly choking a 16-year-old.
He was also sentenced to four years probation for using a child in a sexual performance. He pled guilty to the charge after online videos surfaced of him sexually engaging with an underage girl in 2015.

Hernandez was seen touching and fondling the minor's body parts, and standing behind her while "making a thrusting motion with his pelvis and smacking her on the buttocks," according to a complaint filed with the criminal court of New York.

At the time of the incident, Hernandez was 18 years old and the victim was 13.
In one of of the videos described in the complaint, the child, who is nude, "engages in oral sexual intercourse" with Taquan Anderson while Hernandez "stands behind the child making a thrusting motion with his pelvis and smacking her on her buttocks."
As a minor, Hernandez served time for selling heroin and assaulting the owner of a bodega, according to Genius.com.
3. Some of his fans hatched a plan help him escape from jail.
Over 13,000 Tekashi 6ix9ine fans joined a Facebook group to "break 6ix9ine out of jail." The group, categorized as a religion-based group, is hosted by a page known as "the random urge to scream Tr3yway."

Hernandez is due to appear in court on January 22, 2019.

4. His mom was threatened by someone claiming to be El Chapo's nephew.
The Daily Beast shared a voicemail clip that was allegedly left by Jose Avila, the show's promoter.

In the clip, the caller threatened Hernandez's mother – and claimed to be the nephew of El Chapo, but at one point he also claimed to be Tekashi's new manager.

However, government officials – and El Chapo's lawyers – have claimed to not have any knowledge of Avila as a relative to El Chapo.
5. He has also been a crime victim.
According to TMZ, the rapper was hospitalized in July after being pistol whipped, kidnapped, and robbed in Brooklyn.
According to the news website, Hernandez was arriving home from a video shoot at around 4 A.M., when the Chevy Tahoe he was riding in was boxed in and three hooded assailants jumped him, hit him with a pistol, and drove him back to his house.
At the residence, Hernandez reportedly called someone inside to come down with money and jewelry. The assailants made off with about $750,000 worth of his jewelry and $20,000 in cash. Tekashi reportedly later went to the hospital himself.
There is a connection with another rap murder. Tekashi's kidnapping occurred a few weeks after another rapper, XXXTentacion, was shot and killed in Florida. XXXTentacion had reportedly warned Tekashi to "be safe" and "never let your guard down" a few days before he died.